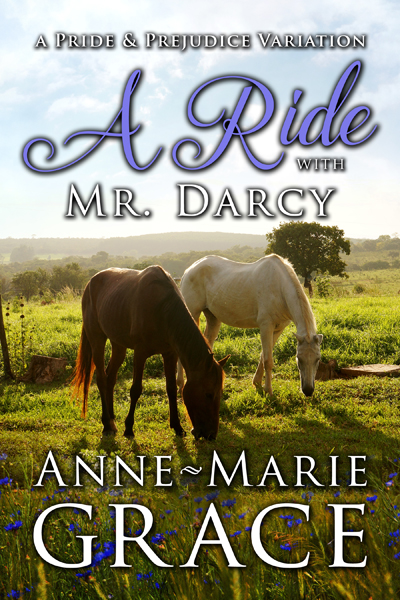 Title:
A Ride with Mr. Darcy
Release Date:
July 11, 2018
Pages:
155
Buy the Book:
Add on Goodreads
Running into Mr. Darcy… at the stables of Pemberley?

Only a few months after rejecting the infamous proposal of a certain wealthy gentleman from Derbyshire, Elizabeth finds herself at his estate. Touring Pemberley with her aunt and uncle Gardiner, her only consolation is that the master of the house has been assured absent.

But when Elizabeth detours away from the immense gardens of the estate and peeks at the stables, to her uttermost horror, she runs into Mr. Darcy! Feeling humiliated, she attempts to escape the situation, but is once more shocked when Mr. Darcy invites them all for a ride around the estate.

Elizabeth hopes her aunt and uncle will refuse, but when they accept his offer instead, she finds herself in a precarious position that is made only more so by the fact that she is actually starting to like Mr. Darcy!

When tragedy strikes and Elizabeth is forced to remain at Pemberley for an extended period of time, how will she ever survive this visit?

A Ride with Mr. Darcy is a sweet and clean regency romance novel that is suitable for all lovers of Jane Austen's Pride and Prejudice.